11 tips for visiting Disneyland from the folks who wrote the book on it, the Unofficial Guide to Disneyland 2015.
Disneyland is one of Southern California's most popular tourist destinations
—and also one of its most expensive and crowded. Here is a list of 11 tips for visiting Disneyland from the folks who wrote the book on it, the
Unofficial Guide to Disneyland
.
1. Avoid Ticket Booth Lines by Paying for Admission In Advance
Thousands of people arrive at Disneyland every morning to start their vacations, and the first thing they do is get in line to buy tickets. Waits of up to 30 minutes are common—that's half an hour you're not riding rides. Save time by buying tickets online at
Disneyland's official website
. You'll receive a voucher to print and bring directly to the entrance turnstiles, and you'll avoid the wait at the ticket booths. Many local supermarkets, such as Ralph's and Albertsons, also sell Disneyland tickets in their gift card displays.
2. Avoid Germs
The December 2014 measles outbreak at Disneyland was an isolated event, but it's still important to consider personal hygiene at the park to avoid a case of the sniffles hampering the final days of a vacation. To reduce germ transmission, we always carry a small clip-on bottle of unscented hand sanitizer, available at drugstores for around $1. Use it after touching railings and door handles, after exiting ride vehicles and bathrooms, and before meals. [caption id="attachment_10195" align="alignleft" width="660"]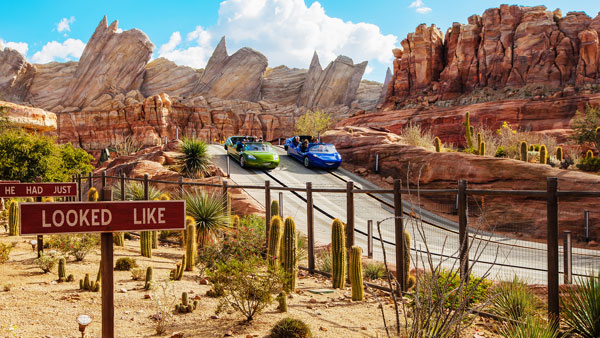 Photo by Caleb Ruckel.[/caption]
3. Fastpass for Racing Cars and Frozen Stars
The two hottest attractions in
Disney California Adventure (DCA)
are the
Frozen
meet and greet starting Anna and Elsa, and the Pixar
Cars
-inspired Radiator Springs Racers. Lines as long as 5 hours developed when Anna and Elsa debuted at Disneyland in 2013, choking off ride entrances and slowing pedestrian traffic to a crawl. To prevent this from happening at DCA, Disney requires visitors to use its Fastpass ride reservation system to meet the princesses; there's no traditional line to wait in. You'll also want to get a Fastpass reservation for Radiator Springs Racers, because the standby line is more than 60 minutes, even on less-busy days.
Here's a secret:
you can get Fastpasses for both as soon as you enter DCA, due to a quirk in Disney's Fastpass system. As soon as you're past the turnstiles, get Fastpasses for Radiator Springs Racers (near It's Tough to be a Bug in Bug's Land) and then head to the Animation building in Hollywood Land for Anna and Elsa Fastpasses.
ALSO SEE: Boutique Hotels Near Disneyland, Universal Studios
4. Fastpass Fantasmic! and Peter Pan's Flight
If you haven't been to Disneyland in a few years, it's important to know that Disney now requires using its Fastpass reservation system to see the popular Fantasmic! nighttime extravaganza. You'll want to grab a ticket as early as possible (next to Big Thunder Mountain in Frontierland), because on busy days they'll run out before lunch.
Here's the catch:
Families with small children run to Peter Pan's Flight in Fantasyland first, and there are 30-minute waits soon after the park opens. The only way to avoid that wait is to ride Peter Pan immediately. To make the most of your time, get in line for Peter Pan's Flight as soon as you enter the park and have one member of your party get Fastpasses for Fantasmic!. Be sure to give one person all of the park tickets in your group, then have them rejoin you in line at Peter Pan.
5. Have A Basic Plan for What to See and When
You'll notice that some of our suggestions have very specific advice for the first couple of things to do during your Disneyland visit. Having a basic plan of attack is the key to avoiding long lines. We can't count how many times we have seen confused families huddled around a park map, taking turns screaming at each other, just 20 minutes after arriving. Before arriving at the park, find a park map online, make a list of a few attractions you want to hit, and pick which attraction you want to visit first. A plan as simple as, "We're starting in Tomorrowland with Space Mountain and then going to Star Tours," can mean the difference between a 5-minute wait and a 50-minute wait in line.
6. Be Single For the Day
Several attractions in Disneyland and Disney California Adventure offer a single-rider line—a separate line for people who are alone or don't mind riding apart from their group. Disney uses these single riders to fill in empty spaces in partially filled ride vehicles, lowering the wait times for everyone. Single rider lines are usually much shorter than the regular lines because there aren't as many singles as there are groups in the park. Attractions with single-rider lines in Disneyland include Indiana Jones Adventure, the Matterhorn Bobsleds, and Splash Mountain; in DCA try Soarin' Over California, Grizzly River Run, California Screamin', Goofy's Sky School, and Radiator Springs Racers (if Fastpass isn't available).
7. Dining Do's and Don'ts
Theme park food may have a bad reputation for being expensive and bland, but Disneyland has a fair amount of food that tastes good and won't break the bank. Hungry Bear Restaurant in Critter Country offers a great Fried Green Tomato Sandwich (with sweet potato fries on request) for under $10, served on a patio overlooking the Rivers of America. The combination of flavor, value and view makes Hungry Bear the highest-rated Disneyland fast-food restaurant among
Unofficial Guide
readers. If you're in a hurry and want food on the on the run, grab one of Disneyland's legendary corn dogs at Little Red Wagon Corndog Cart on Main Street USA. Avoid eating in Toontown. Our readers continually rank Toontown restaurants among the worst on Disney property. A good way to save money on snacks is to carry lightweight treats such as granola or dried fruit. A refillable water bottle saves money versus sodas and is better hydration. Avoid bringing a backpack full of sandwiches and big bags of chips. They'll get crushed when you have to stuff the backpack into the bottom of many ride vehicles. [caption id="attachment_10196" align="alignleft" width="660"]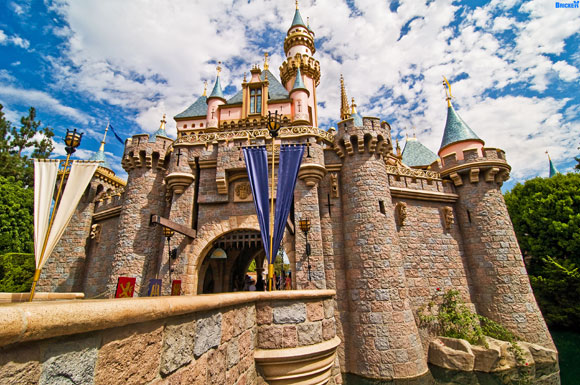 Photo by Tom Bricker.[/caption]
8. Find Some Secret Shade
Summer days in Southern California can become very uncomfortable, even if you're well prepared for the heat. For a few minutes of air conditioning, head to the Animation building in Hollywood Land in Disney California Adventure. The building is home to character meet and greets and a
Finding Nemo
-themed show, and the lobby is large, indoors and air-conditioned, with no line. Grab a snack and escape the sun. It is also a great stop for nursing mothers, and small children in need of naps. Another great cooling-off option in Disneyland is Great Moments with Mr. Lincoln, on Main Street USA. This 15-minute, indoor presentation includes two things that make America great: Lincoln's legendary speeches and air-conditioning.
9. Use Fastpass to its Fullest
You'll save the most time using Fastpass at Space Mountain, Big Thunder Mountain and Star Tours in Disneyland. Why? The Fastpass lines for these rides merge with the regular, standby line very close to where you board your ride vehicle. Beware of using Fastpass at Indiana Jones Adventure in Disneyland or Tower of Terror in Disney California Adventure. The merge points on those rides happen much farther away from the boarding point, so you'll spend longer waiting in line, especially on busy days.
10. Don't overpay for a hotel room
Disney regularly offers discounts for the three hotels it owns at Disneyland, but even then, prices can start at $200 per night, out of reach for many families. Luckily there are
dozens of hotels just outside Disneyland
that offer good accommodations and a short walk to the Disneyland gate, at a fraction of the cost of Disney's hotels. The free website MouseSavers.com will show you all available discounts for many Disneyland-area hotels, often as low as $81 per night (tax included), plus any current discounts on Disney-owned hotels.
Also, find more options with the LosAngeles.com Hotels Directory.
11. Be a Morning Achiever
If you want short waits in line, it's critical to maximize your morning time in the parks by getting in line for popular rides first. Don't stop for a sit down breakfast, meet characters, or start shopping on Main Street—there will be plenty of time for all of those later. Pack a small breakfast in a backpack, save the pictures for later and get moving! Friends and family continually tell us that this is the most successful tip they used when visiting the parks.
Guy Selga is the lead in-park researcher for the Unofficial Guide to Disneyland—it's his job to visit Disneyland. Len Testa co-authors the Unofficial Guide's theme park titles touringplans.com.
What are your tips for visiting Disneyland? Leave a comment in our comments section.
Facebook
Tweet
Linkedin
Pinterest
Google +
Interested in becoming a Contributor?