Hotel bars occupy a unique space in LA's nightlife scene and are regularly frequented by local and regulars, alike.
[caption id="attachment_7671" align="alignnone" width="620" caption="Library Bar at The Roosevelt."]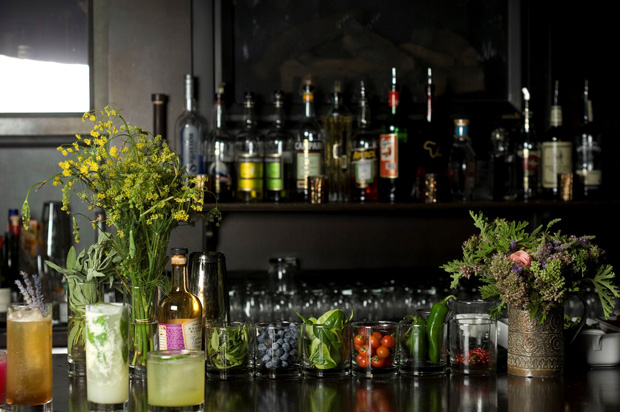 [/caption] Hotel bars occupy a unique space in LA's nightlife scene and are regularly frequented by locals and visitors, alike. Hotel bars like the
Chateau Marmont
serve as a hub for A-list celebrities and their admirers, while across town,
The Standard
has cultivated a reputation as one of the top nightlife spots downtown with Vegas-style theatrics. Meanwhile, the view at
Sunset Tower
draws a cast of local regulars on any given night. Below, you'll find some of the coolest hotel bars LA has to offer.
Hollywood
Library Bar at The Roosevelt
Despite its tourist-trap location across from the Chinese Theater, the Roosevelt is quite beautiful. Inside, there are several bars: a pool bar, a couch-filled lobby bar, a little club called Teddy's and, tucked in a corner off the massive lobby, the Library Bar, which features some of the best cocktails in LA. The trick is that the Library Bar doesn't have a paper cocktail menu. Everything is verbal. Ask one of the bartenders what they're serving that day, and they'll rattle off a list that includes drinks like a Zebra Heirloom Tomato Mojito and a Banana Old Fashioned. Their most famous drink, the Last Tango in Modena, involves imported Balsamic, fresh muddled strawberries and a foam made from St. Germaine. It tastes like cold berry jam, and is without a doubt one of the tastiest cocktails on planet earth. The reason there's no menu is because the cocktails vary with whatever the bartenders have been able to acquire from the farmer's market that day, a practice that perfectly meshes old-school Hollywood class with new-age California lifestyle.
Bar Marmont at Chateau Marmont
Bar Marmont, the more public of the two Chateau Marmont bars, is a stylish little spot that sits separate from the Chateau. The overbearing feeling of exclusivity can be intimidating and the drinks are expensive, but if you're looking to spot a celebrity, this is the place to do it. Plus, the courtyard area has a certain intimate elegance hard to find at more accessible locales.
Tower Bar at the Sunset Tower

Across Sunset Boulevard from Chateau Marmont, housed in a gorgeous art deco block of a building, Tower Bar at Sunset Tower has a fantastic view and a great cocktail menu (try a coconut Caipirnha, made with real coconut puree). The charismatic Maitre D', Dmitri Dmitrov (who has been written about in the New York Times), puts it thusly, "It's about service, about the people. Who is who is secondary." While celebrity clientele flock to Sunset Tower for its beautiful décor and timeless, Old-Hollywood coziness, ordinary people are treated with the same respect and dignity as everyone else. It's a perfectly tuned elegy to
Hollywood
class and sophistication. Careful though, 95 percent of the patrons are regulars, so you might have to do some finagling to get a table.
Santa Monica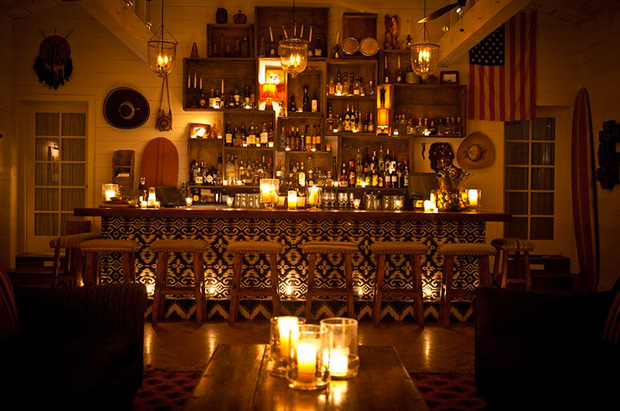 Bungalow at Fairmont Miramar Hotel & Bungalows

Half indoor and half outdoor, breezy Bungalow is one of the best daytime drinking spots in LA. On Ocean Avenue, with the sun and ocean at your side, there's no better place to drown the day in Margaritas. It's one of the few places in LA where approaching random strangers feels totally appropriate. As the day wears into dusk, Bungalow loosens up and LA rigidness dissolves into something resembling actual fun.
The Lobby Lounge at Casa Del Mar
Casa Del Mar, located further South down the Ocean Avenue strip from Bungalow, has an older, more mature scene. The bar is in a high-ceilinged lobby with long windows facing the sea. Unfortunately, the bar sort of blocks the view, and you can't get up close to the windows without interrupting diners in the restaurant. Still, it's basically on the beach, with an ocean breeze and beach nearby for a post-drink stroll. The lazy, laid-back vibe meshes perfectly with the sand and the sunshine. This place has soul.
Cameo Bar at the Viceroy

A neighbor of Casa Del Mar, Cameo Bar at the Viceroy sports modern Kubrick decor and a crowd that is younger and more energetic than the Santa Monica bars listed above. The bar is small, and people tend to bleed out into the lobby and the outdoor pool area as the night progresses. You get the feeling that Viceroy cultivates its image as a bar and social staple. Go to Locals Night on Friday evenings to get 10 percent off drinks.
Beverly Hills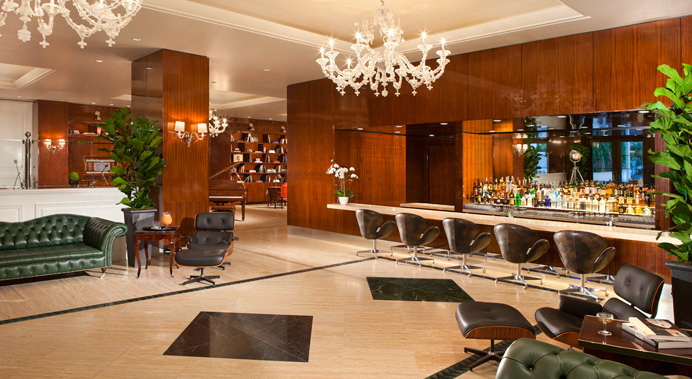 Lobby Bar at Mr. C

Managed by Italian hospitality group Cipriani, the lobby bar at The C is known for its Peach Bellini cocktail, and its imported peach puree makes it quite good. The décor of the bar, supposedly an exact replica of the original Harry's Bar in Venice, Italy, is unique to LA, as it really does feel like an airy Italian salon. The wait staff at Mr. C is warm and inviting. There is Jazz on Friday nights.
Downtown LA
The Standard – Downtown
The Standard isn't so much a bar as it is an experience. Housed in a mid-sized tower downtown, the rooftop at The Standard is stunning. The space is divided into two parts, the sleek Standard Rooftop Bar, which has a neon blue pool and exudes a Grey-Goose-and-Cranberry sort of vibe and the Biergarten, a German-themed area where you can order a Stuttgart Sazerac and a giant pretzel imported from Bavaria. The décor of the two could not be more different. There are infinite bells and whistles, including red turnip shaped lounge waterbeds and a projector showing movies on the façade of a nearby building. Keep an eye out for drunken revelers who occasionally dive into the pool.
Follow Isaac Simpson on Twitter at @Isaco525
Facebook
Tweet
Linkedin
Pinterest
Google +
Interested in becoming a Contributor?