In addition to holiday events throughout December, neighborhoods and shopping areas shine bright with Christmas lights in LA.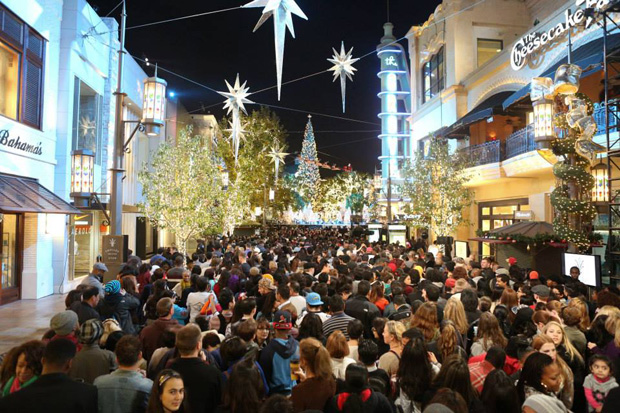 In addition to
holiday events throughout December
, neighborhoods and shopping areas shine bright with Christmas lights in LA. Here are five Christmas light attractions to take advantage of in LA this holiday season.
San Fernando Valley
Starting the second Saturday of December, witness the magic that is Candy Cane Lane. Located in Woodland Hills, Candy Cane Lane is home to elaborately lit homes, each competing to outshine. Though many opt to drive through the neighborhood in awe, traveling by foot may be your best bet, especially if you're in the mood for funnel cake sold by the local street vendor.
Long Beach
Long Beach Hydrobikes
Holiday Lights Tour takes visitors through the Naples Canals in Alamitos Bay, home to million dollar homes that never seem to disappoint in the Christmas light department.
Pasadena
A trip to Upper Hastings Ranch in Pasadena provides a holiday attraction with a historical context. Not only are the homes spectacularly decorated, the area picks holiday theme to follow each year. Visit the Balian Mansion for particularly stunning decorations.
Beverly Hills
In addition to the sparkling jewels found in the window displays, Beverly Hills seems to always have a beautiful and pristine display of lights this time of year. Take a stroll on Rodeo Boulevard and gaze at the twinkling lights hanging from the trees, or pull a Julia Roberts and pop in to the Beverly Wilshire to check out the light display.
Mid-City
With more than 10,000 ornaments and 15,000 lights, the Christmas tree at
The Grove in Los Angeles
is quite the spectacle. The Christmas Tree Lighting ceremony certainly draws the biggest crowd, but there's holiday cheer throughout the season with snowflakes and and Santa Claus.
Facebook
Tweet
Linkedin
Pinterest
Google +
Interested in becoming a Contributor?