The Gravy Train Poutinerie has earned success serving poutine, Canada's signature dish, from an LA Food Truck.
[caption id="attachment_6083" align="alignnone" width="558" caption="Poutine, Canada's signature dish."]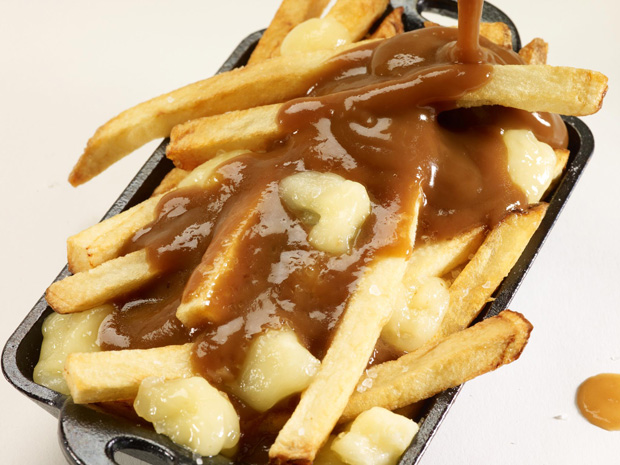 [/caption] The words "Canadian" and "cuisine" rarely go together, but the Gravy Train Poutinerie has earned success serving the Great White North's signature dish—poutine—from an
LA Food Truck
.
The Guilt Trip
screenwriter Evan Goldberg and longtime friend Tum Cohl, both Canadians and the owners of the truck, created the truck after they were inspired to share the unique French-Canadian combination of French fries, cheese curds and gravy that is regularly sought out by other Canadians in LA.
Truck Name:
Gravy Train Poutinerie
Cuisine style:
Poutine, a French Canadian dish consisting of french fries, cheese curds and gravy, and quite possibly a dash of pure magic.
Usual Locations:
OC Fairgrounds,
Abbot Kinney
, South Bay,
Hollywood
, Chatsworth. We like to change it up and hit new locations as much as we can.
Years in Business:
Almost one year old. Our birthday is in March.
Owner/Chef:
Tum Cohl and Evan Goldberg
Background: 
Evan Goldberg, writer of
Superbad, Pineapple Express, Green Hornet, 50/50 and The Guilt Trip,
realized his film career could run dry any second. One night, after the bars, his long time friend Tum Cohl suggested they bring poutine from it's home in Canada down to the U.S. Before long, we were opening our truck for business on the mean streets of Los Angeles and the surrounding areas. Everything's been gravy.
Specialty menu items:
Fried Cheese Curds. They are tempura battered fresh cheese curds deep fried to a perfect crispiness. It's like biting in to a gooey piece of heaven. Only a madman wouldn't dig in on this sassy treat.
Top seller:
 The All American. It's our Americanized take on poutine, consisting of tater tots, cheese curds, sausage gravy and a fried egg on top.
What inspired you to bring poutine from the Great White North to Los Angeles?
It blew our minds when we realized that no one in the U.S. seemed to know what poutine was when it's clearly a dish Americans would love. It fits right in at a town fair, a bar district, a sporting event or a concert venue. It'd be a crime if we didn't bring it on down to our American friends.
How popular is your truck with Canadians?
Very popular! They seek us out and are always so excited to get a taste of home. We even offer some impossible to get Canadian candy bars like Caramilk, Coffee Crisp and Aero Bars, which makes Canadians giddy as a kid in a candy store, and intrigues the American palette with it's strange and exotic tastes.
You welcome original ideas and recommendations for different takes on poutine from patrons. What has been the best and most bizarre ideas/recommendations you've received? 
We're always down to try out new and creative poutine dishes, and our talented chefs are constantly pushing the poutine boundaries. We've seen everything from a poutine-wich to a dessert poutine made with Twix bars and marshmallows. Keep your eyes open and your stomachs open even wider because you can expect to see a whole lot of awesome coming to the Gravy Train.
We hear you have a mascot, can you tell us more?
We'd like to mention our biggest fan, our captain, and our mascot—the undeniable, the un-impeachable, the unbelievable Beth! She's the new Ronald McDonald. Look out world. We have two commercials featuring Beth. http://youtu.be/NgzE1AWlS7Q
What's your most difficult item to prepare and serve?
We make all of our gravies from scratch, so it takes a while to create a good roux, which is the base of any gravy. But nothing's difficult when we're living the poutine dream, and the delicious taste is worth all the work.
What are some of your favorite food trucks?
We love Coolhaus for our dessert fix,
Grilled Cheese Truck
,
Lobos Truck
and After School Special Truck.
If you could meet one chef, who would it be and why?
Chef Boyardee. The man practically raised a generation of kids single-handedly.
Favorite music to listen to in the truck:
We listen to anything from the Beatles to Rhianna. No death metal and no Nazi music. Or Nazis.
Favorite location:
Any event where the crowd is drinking. Nothing goes better with a beer than a hot dish of poutine. Plus, the drinking crowds are really entertaining because they're so drunk.
Social Sites:
Twitter
Facebook
Facebook
Tweet
Linkedin
Pinterest
Google +
Interested in becoming a Contributor?