It's jingle bell time for holiday events in LA. There are great activities all over the Southland to help set the mood for the holiday season. Here are a few of our favorites.
Nov. 28-Jan.4: LA Zoo Lights
Los Angeles Zoo
The DWP Holiday Lights tour through Griffith Park has been reconfigured as a 90 minute self-guided walking tour of the zoo. Light tunnels and live reindeer mark this event as the start of a holiday tradition.
Nov. 26-Dec.24: Holiday Music at The Grove
The Grove, West Hollywood
With an enormous 100-foot tall decorated tree, Santa's cottage, and a nightly snowfall, the free nightly performances of pop, rock and holiday tunes make shopping at The Grove almost as magical as a trip to Santa's workshop.
ALSO READ: LA's Best Hotels for the Holidays
Dec. 13: Marina Del Rey Boat Parade
Fisherman's Village Marina Del Rey
2014 marks the 52nd anniversary of this glittery waterfront classic. More than 70 vessels will sail through the marina decked out in holiday lights and vying for prizes. Fireworks start the evening of shiny seasonal sailing.
Dec. 14: Hanukkah Family Festival at Skirball Cultural Center
Skirball Museum
The Hanukkah Family Festival at Skirball Cultural Center looks at holiday themes of light and freedom with a spin through Latin American culture.
Dec. 15- 30: Venice Canals Holiday Lights
Venice
Strung with lights, the classic arched bridges over the Venice canals look more romantic than ever. With the entire canal neighborhood decorated, it's the perfect place to fete the season.
Dec. 19: The Music Center Holiday Sing-Along
Music Center Plaza Los Angeles
Music Center Plaza hosts this annual holiday sing-along, replete with lyrics sheets. This free event and draws wannabe carol crooners far and wide.
Dec. 21: LA Farmer's Market Hanukkah Celebration
The Original Farmer's Market
This annual Hanukkah Celebration at the Farmer's Market adjoining the Grove shopping center includes craft workshops, food, music and a large-scale Menorah Lighting Ceremony.
ALSO READ: Christmas Lights in LA
Dec. 24: LA County Holiday Celebration
Dorothy Chandler Pavilion Los Angeles
For those who've finished their shopping early, Christmas Eve afternoon is the time for this free three-hour musical extravaganza. Choirs, mariachi bands and even a Korean dance troop come ready to rev up the holiday cheer.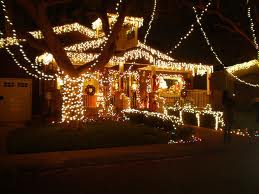 Dec. 1- Jan.1: Sleepy Hollow Christmas Lights 
Torrance
For 40 years this Torrance neighborhood just off Pacific Coast Highway has lighted up the night with blocks of decked-out houses. Walk and score hot chocolate and cookies sold by neighborhood children, or join the stream of slow moving traffic cruising through the area.
Facebook
Tweet
Linkedin
Pinterest
Google +
Interested in becoming a Contributor?