With one of the best views of Hollywood, Chef Brock Kleweno has infused creativity and originality into the Asian-inspired menu at the iconic Yamashiro Restaurant, regularly named one of the most romantic restaurants in LA.
With one of the best views of
Hollywood
, Chef Brock Kleweno has infused creativity and originality into the Asian-inspired menu at the iconic
Yamashiro Restaurant
, regularly named one of the most
romantic restaurants in LA
. After being hired as sous chef in 2006, he was promoted executive chef in 2009. Kleweno is also known for his flavorful tacos and sliders sold at the
Hollywood Farmers Market
, held every Thursday from April to September, and, for a short time, at his Hollywood and Highland taco eatery. Komida. We caught up with Kleweno to find out if there will be a Komida comeback and how his former corporate career led him to the kitchen.
We were sorry to hear about the closing of Komida. Will those famous tacos ever return to LA?
Komida came about at time that wasn't right for the concept. However, there is a possibility that the tacos may return.
The Hollywood Farmers Market has warmly welcomed your tacos and sliders. What inspired those creations outside of the menu at Yamashiro?
We wanted to reintroduce Yamashiro to the public with a "surprise" that we're more than Asian-inspired cuisine. The tacos, sliders, and pickles that have shown up on the menu have given our guests and ourselves the opportunity to experience something new and fun.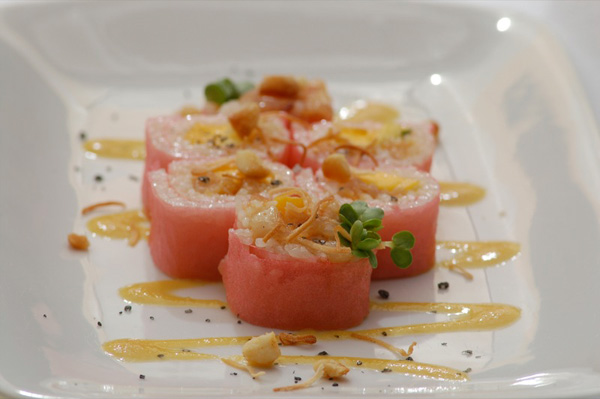 You grew up on your family's farm. How did that influence how you are in your kitchen today?
Because it was such a rural setting—15 miles away from a town with a stoplight—it was all about the family and sitting down for meals together. Food and kitchens are all about family and relationships to me. We had the gardens, the cow and the pigs that you slaughter. It was very simple. Potatoes, apples in the fall, sausage in winter—a lot of casseroles.
Before becoming a chef, you earned a degree in marketing and worked at Microsoft, IBM and Cargill. What inspired you to leave the corporate world for the kitchen?
Cargill was international. I lived in Istanbul and that's where I fell in love with food. It's a mishmash of lots of different foods. And I lived in Russia, which was an amazing experience as well. It was a lot of traveling. I got tired of winters so I moved to California and went to culinary school.
What was your very first night like cooking at a restaurant, and where was it?
Balboa Steakhouse in
West Hollywood
. It was scary. I didn't do anything right. I didn't know anything. I had no idea what was going on. I was so tall and the station was so tiny, I couldn't move!
Do you listen to any music while you're cooking? If so, what do you listen to?
Yes… I listen to everything. Pretty much the guys dictate the Latino.
What is your favorite locally sourced ingredient?
Our uni.
What's your favorite menu item of the moment?
Pistachio Salmon.
Read more LosAngeles.com LA Chef coverage.
Facebook
Tweet
Linkedin
Pinterest
Google +
Interested in becoming a Contributor?