In a city that was built on costumes, make-up, fantasies and nightmares, Halloween takes on extra meaning in LA. From theme parks to the massive West Hollywood Carnival, there is no shortage of events to choose from.
[caption id="" align="alignnone" width="620" caption="The scene at Holloween in West Hollywood."]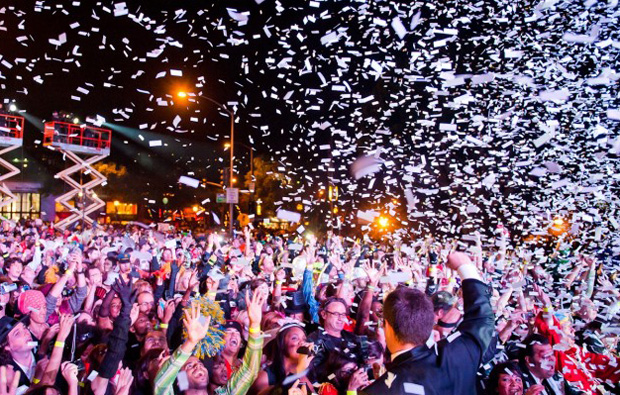 [/caption] In a city that was built on costumes, make-up, fantasies and nightmares, Halloween takes on extra meaning in LA. From theme parks to the massive West Hollywood Halloween Carnaval, there is no shortage of events to choose from. Here are some of our top picks for Halloween in LA:
Sept. 20 - Nov. 2: Universal Studios Halloween Horror Nights
Drawing from a long history of classic horror movies,
Universal Studios
is turning into a fearsome gore through November 2nd. Movies, such as
Evil Dead
and
Insidious
, come to life with ghosts, demons and zombies roaming the park. Don't miss the Terror Tram, full of zombies from
The Walking Dead
as well as other rides, mazes and fear-filled shows.
Sept.r 26-Nov. 2: Knotts Scary Farm Haunt
Starting the end of September and running through November 2nd, night time at the
usual kid-friendly theme park
turns dark with ghoulish creatures and characters. Drawing from some terrifying horror movies like
The Ring
,
Texas Chainsaw Massacre
and
Saw
, The Haunt has transforms rides, shows and other attractions at the parkt.
Sept. 28-Oct. 31: Paranoia Halloween
Taking over the second floor of
Santa Monica Place
, the normally quiet mall becomes home to Paranoia, an event set back in the 30s, when Santa Monica was host to gangsters and sufferers of the Depression. The mystery of "who done it" survives through three mazes and excursions.
Oct. 3-Nov. 2: The Queen Mary's Dark Harbor
The Queen Mary
in
Long Beach
has long carried tales of hauntings and paranormal activity. During weekends in October, staff embrace it's haunted past and transform the ship and surrounding area with terrifying experiences, shows and monsters. The Dark Harbor features six mazes, freak shows and creatures that revisit the ship's haunted past.
Oct. 4-31: Los Angeles Haunted Hayride
Located in
Griffith Park
and based on actual events, the Los Angeles Haunted Hayride is not for the faint of heart. Returning for its fourth year, the Haunted Hayride evolved from real folklore and legends surrounding
Griffith Park's
Old Zoo and B Rock. Scary trails, mazes and a new "Purgatory" sideshow greet visitors.
Oct. 5: Zombie Fashion Show and Creature Exhibit
Combining art, costumes and gore, the Zombie Fashion Show and Creature Exhibit is coming back to
downtown LA
to the
Mezz bar
at the
Alexandria Hotel
for a night of zombie fun, food and drink. More than 50 makeup artists compete for cash prizes to see which creature is most terrifying and 150 pieces of artwork are on display in the Creature Art Exhibit.
Oct. 5-Nov. 2: Old Town Haunt
Old Town
Pasadena
is home to one of the scariest haunted house experiences in Los Angeles. The Union Savings Bank Building, built in the 1880s, is one of the oldest buildings in Pasadena. Live actors and explorations of dark and creepy areas like the basement and the catacombs promises to be a scream-filled good time.
Oct. 8-17: Screamfest Horror Film Festival
Screamfest is the largest horror film festival in the U.S. and aims to uncover and screen up and coming films and talent as well as celebrate classic horror masterpieces. The film festival takes places at the
Grauman's Chinese Theater
in
Hollywood
. Horror masters Clive Barker, Wes Craven and Roy Lee are on the festival advisory board.
October 25-31: Hollywood Halloween Pub Crawl
Drinks abound at the
Hollywood
Halloween Pub Crawl, on Oct. 25-26 and again on Halloween night, where party goers get dressed to the nines to walk the Hollywood Walk of Fame and enjoy drink specials. The crawl starts at
Outpost Hollywood
with $2 draft beers and $4 shots.
Oct. 26: KCRW's Masquerade
Coming back for its fourth year at the Park Plaza in
downtown LA
, the KCRW Masquerade celebrate the holiday with live bands, guest DJs, vaudeville circus acts, burlesque shows and more. This year's DJ acts include sets from Rob Garza and Dave Stiek of TV on the Radio and music from The Lions and more.
Oct 26: LACMA's Muse Costume Ball
LACMA's 10th annual Muse Costume Ball brings a more refined soiree to the Holloween scene.The costume ball will have plenty of Hollywood glamour on the red carpet, an outdoor concert and costume contests. Visitors will also have a chance to peruse art exhibits. Muse and LACMA members get a discount, but general admission is also available.
Oct. 26, 31: W Hollywood Haunted Hotel
Dance the night away from 10pm until the early morning with DJs spinning house music and Top 40 at three dance floors. A costume contest awards cash prizes for the most for eye-catching ensembles.
Oct. 31: West Hollywood Halloween Carnaval
LA's most famous Halloween party starts at 6pm on Santa Monica Boulevard, from Doheny Drive to La Cienega Boulevard. The streets are closed and partiers flood the streets in elaborate costumes and attire. Make sure to bring your A game with a well-thought out costume or group costume. Plenty of
West Hollywood
bars and clubs will also join the fun with ongoing specials, contests, food and live entertainment. Make sure to bring a camera to capture the magic.
Oct. 31: Cabaret de L'Enfer at The Edison
Regular bar aficionados will not be surprised that the
downtown
roaring 20s meets steampunk themed bar
The Edison
also throws one of the must-attend Halloween parties in the city. With burlesque shows, shots of absinthe and black and white films already in rotation at this popular venue, the Halloween party showcases "the Unique, the Unusual and the Wondrous."
Nov. 2: Dia de Los Muertos
Halloween celebrations wouldn't be complete without the annual Day of the Dead celebration at the
Hollywood Forever Cemetery
. This traditional Mexican festival celebrates the dead with dancers, food and craft vendors, lively processions, live music and more than 100 elaborately decorated altars.
Facebook
Tweet
Linkedin
Pinterest
Google +
Interested in becoming a Contributor?