In Los Angeles, night owls don't have to settle for microwave burritos. Here are some of our favorite places to nosh late at night.
[caption id="attachment_7564" align="alignnone" width="620" caption="Canter's Deli late night."]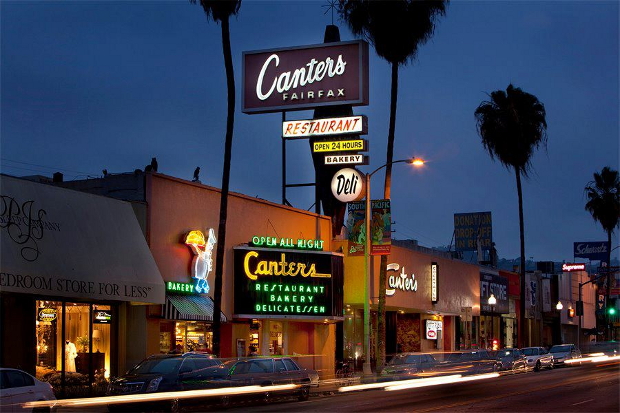 [/caption] After midnight, food and dining options can be limited. But in Los Angeles, hungry patrons don't have to settle for fast food or microwave burritos. This city is home to a rich culture of serving those who are out and hungry way after dark. Here are some of our favorite places to nosh late at night:
Bossa Nova
Full Brazilian flavor bursts out of the fare at either one of the Bossa Nova locations, in West LA or in Hollywood, open until 3am. The menu features a variety of with Brazilian classics like picanha, chicken stroganoff and lots of fried plantains.
Pacific Dining Car
With two all-night locations in Santa Monica and near downtown LA, Pacific Dining Car is where diners go for a more elegant late-night white tablecloth meal. The 50s style menu features indulgent items like the rack of lamb, the Midnight Cowboy steak and many breakfast options. Their late night offerings are served from 11pm until 6am.
Red Medicine Red Medicine boasts that it is not a traditional Vietnamese restaurant and it follows through with unexpected dishes and flavors. Chef Jordan Kahn sets the bar high with great food and ambiance that keeps customers coming back with plates like pork belly banh mi, sweetbreads with smoked bone marrow, chicken dumplings and beyond. Red Medicine is open and serving hungry patrons until 2 a.m. all week.
The Kettle
Located in Manhattan Beach, The Kettle is open 24 hours a day and serves reasonably priced food satisfying all manners of beachcombers. Diner fare is served along with specials highlighting fresh seafood, like the Ceviche-Style grilled Mahi Mahi Tostadas and late night favorites like their Cowboy Tri Tip with Chimichurri.
Canter's Delicatessen
Canter's is the epitome of late-night dining in Los Angeles. Serving up classic diner food since 1931, Canter's is open 24 hours a day with a retro-chic ambiance. Breakfast is in high demand here including their breakfast blintzes, egg dishes and specialty pancakes and waffles.
BCD Tofu House
Although the BCD Tofu House is a worldwide chain, the few Los Angeles locations are serving patrons 24 hours a day. Known for it's authentic Korean fare and plenty of tofu options as the name suggests, BCD Tofu House specialties include their variety of soon tofu soups and other Koren favorites like bulgogi and bi bim bap.
Kitchen24
With a few locations in Hollywood and West Hollywood, Kictchen24 often serves those frequenting the lounges, clubs and bars nearby. Although the design is traditional diner with bright pinks and whites, their focus is on fresh fare with high quality soups, sauces, baked goods and pastries. Diners can find elevated and California fresh versions of favorite diner dishes including the tuna melt, chili cheese fries and rosemary steak salad.
Where is your favorite place to grab a late night dinner in LA? Share your thoughts in the comments section below.
Facebook
Tweet
Linkedin
Pinterest
Google +
Interested in becoming a Contributor?