Diners can sip and slurp their way to culinary felicity at these east side oyster bars and restaurants.
Widely lauded for their complex taste, oysters are frequently compared to fine wine because of their regional variations in sweet, salty and earthy flavors. And much like a glass of French Bordeaux or Argentinean Malbec, oysters are consumed for their mood-enhancing and aphrodisiac qualities. To reap the full benefits of these briny bivalves, diners can pair half shells with cocktails at these east side oyster bars, sipping and slurping their way to culinary felicity.
City Tavern
735 S. Figueroa St #133, Los Angeles
A simple and classic dish like oysters on a half shell with charred lemon and shallots deserves to be enjoyed with an equally traditional cocktail. While the tufted leather sofas and brick walls of this new bar reflect a by-gone era, City Tavern serves its old fashioned with a modern twist: Henry McKenna 10 year bonded bourbon mixed with calisaya liquor and angostura bitters.
RockNFish
800 W. Olympic Blvd, Los Angeles
Topped with horseradish and Tabasco, the shooters at RockNFish are spicy, rich and exciting. To balance the bold flavors of the dish, the El Cucumber cocktail, made with a cool combination of Sauza Hornitos Reposado tequila, cucumbers and Saint German, is the perfect accompaniment.
Church and State
1850 Industrial St, Los Angeles
Two types of oysters grace the "Oysters of the Day" section of Church and State's menu on a rotating basis, including selections from the Puget Sound and British Columbia. For many oyster connoisseurs, champagne is the beverage of choice because the sophisticated taste of bubbly is seen as a natural extension of the seafood's decadence. Therefore, it's no coincidence that Church and State has packed their extensive wine list with a wide array of Champagne and Sparkling wines; options range from a modest glass of Charles de Fere Brut to a lavish Pol Roger Winston Churchill Cuvee to suit every taste and occasion.
Bar Ama
118 W. 4th St, Los Angeles
No need to slurp the oysters at Bar Ama when they come deep fried with a side of jalapeno escabeche. Just like other pub-inspired dishes, these fried oysters can be paired with a Bootlegger's "Black Phoenix" Chipotle Coffee stout for a bitterness that cuts through the rich shellfish.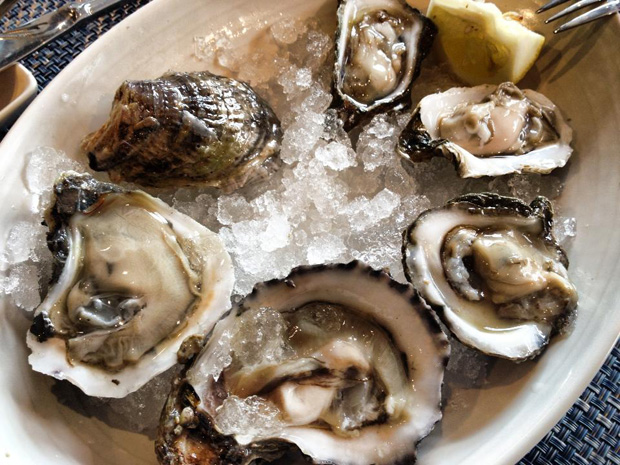 L & E Oyster Bar
1637 Silver Lake Blvd, Los Angeles
Specializing in the "magnificent oyster," L & E Oyster Bar receives its oysters daily from all over the country. There's a section on the bar's website to show where the stock comes from—Rocky Pass oysters from Alaska, Sunken Meadow oysters from Duxbury, MA and Chesapeake Bay Misty Point oysters are only a few of over 100 varieties that made the cut. Upstairs, guests can order oysters by the dozen to slurp with a glass of Pinot Gris or any other wine from their carefully curated list of more than 50 reds and whites.
Messhall Kitchen
Where any other establishment would have a dessert display, Messhall has an ice case to showcase the daily selection of fresh oysters. Four options per day, but there is a rotation of 100 varieties from both sides of the coast. To pair with their Baja Kumiai oysters or Washington Gigamodos, a martini is a classic, well-loved choice. Messhall's A Proper Martini, featuring Martin Miller's gin, dry vermouth, orange bitters and a lemon twist, actually lives up to its name.
Cliff's Edge
Every Thursday night, the corner service bar on the outdoor patio of Cliff's Edge becomes an oyster tasting station. Guests can sample oysters for $1 each and drink specials for champagne, such as a Brut Mosaique from Reims, France from 6pm to 7pm.
[Photo Credit - Top image: Oyster photo from Shutterstock; Bottom image: L & E Oyster Bar]
Facebook
Tweet
Linkedin
Pinterest
Google +
Interested in becoming a Contributor?