The new Houston Brothers bar,
No Vacancy
, brings reasonable prices with sophisticated throwback decor and a secret entrance to the Hollywood bar scene. No Vacancy occupies one of the oldest houses in
Hollywood
. Built in 1902, the mansion has, over the years, housed hotels and restaurants of all kinds. The sign, in fact, still reads Hotel Juniper, but the original words are darkened, and only the "No Vacancy" burns in bright neon.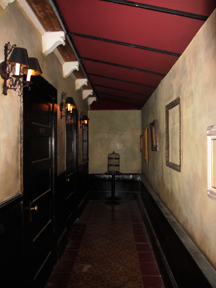 Now, here's the cool part. You arrive, and your party is directed up some stairs and into a narrow hallway. Three unmarked doors line the darkened corridor. A birdcage rests ominously on a pedestal at far end. You are alone, and, with no direction from the staff, you inevitably try one of the three doors. It's locked. You try another. It opens. You walk into a small space that looks like the bedroom of a struggling 1920s starlet—Persian rugs, ornate makeup kits on the counter of an elaborate vanity. On the bed lies a beautiful woman in lingerie. She sits up and says, "Oh, I wasn't expecting company." You stand there, giggling awkwardly. Then she says, "but since you're here, let me explain the house rules…" She lists a few things, no photography, etc. Then her bed slides, as if pulled by an invisible mechanical arm, across the floor to reveal the stairs going down into the floor. This is the entrance to No Vacancy. What makes No Vacancy particularly unique is not just it's elaborate entrance ritual, nor the stunning space it occupies, nor the high-wire acts that happen within the bar several times a night. It has all that, but at the same time projects accessibility as one of its strongest values. Manager Justin Patrick says, " We don't want to be super exclusive. Other Houston [Brothers'] places cater to that kind of crowd, but we want to be different. We want to be the kind of neighborhood place you can rely on for a drink after work."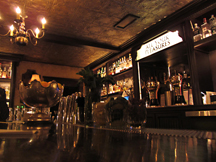 In that vein, No Vacancy charges $5 for a draft beer and there's a grill that serves up burgers and other sandwiches all night. That said, accessibility seems at odds with the bar's general vibe. There's the entrance ritual, and also a classy drink menu featuring cocktails created especially for the bar by 12 famous mixologists. There's also a stunning, carved stone backyard space with fireplaces and a porch swing, but the contradiction is a harmless one. It just means you can drink reasonably priced beer and eat bar food in a non-dive-bar atmosphere, which is really the best of both worlds.
No Vacancy is the Houston Brothers' fourth LA establishment, after La Descarga, Pour Vous, and Harvard & Stone. It is located at 1727 North Hudson Ave. in Hollywood. Table reservations are available.
Facebook
Tweet
Linkedin
Pinterest
Google +
Interested in becoming a Contributor?