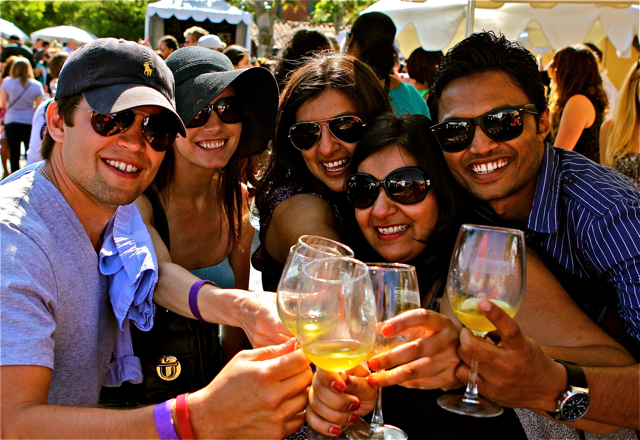 Summertime in LA takes many forms: it's a time for beach bonfires and tanning, county fairs and carnival games,
starlit concerts
and outdoor movies. It's also the time when food and wine festivals set up shop around the city, bringing gourmet bites and heady booze to the masses. There are LA food and wine festivals happening almost every weekend, so even if one slips by, there's another right around the corner.
May 31-June 1: LA Winefest
Hollywood
Taking over historic Raleigh Studios for the ninth year in a row, LA Winefest showcases more than 30 local and international vineyards. New Zealand Sauvignon Blanc is poured alongside Paso Robles Petite Syrah to provide oenophiles with a global tasting experience.
June 1: Taste of the Eastside Downtown LA
The Eastside of LA is home to the unsung heroes of the city's culinary landscape. While Beverly Hills and West Hollywood are known for their celebrity chef restaurants, but the Eastside's burgeoning food community has also seen the rise of celebrated spots like
Canele
,
L & E Oyster Bar
and
Allumette
. Taste of the Eastside highlights this diverse food scene with signature dish samples and cooking demos from award-winning restaurants in the area.
June 12: Taste of Malibu Malibu
Home to the largest collection of vineyards in LA
, Malibu provides Angelenos with the Napa Valley experience in our own backyard. Taste of Malibu at
Duke's
celebrates the community's wines, delicacies and beautiful landscape by bringing local vintners and restaurants to the coast.
June 20-21: Calabasas Malibu Food and Wine Festival Calabasas
Combining the food and wine offerings in Calabasas and Malibu, the Calabasas Malibu Food and Wine Festival highlights iconic LA restaurants and wineries, including
Patina Restaurant Group
, Stella Rosa Wines, Girasol,
STK Los Angeles
and Pacific Coast Vineyards.
June 28: LA Street Food Fest Pasadena
For anyone who enjoyed
Shawna Dawson's Artisanal LA
fair, the upcoming LA Street Food Fest unites Dawson's curatorial skills with the city's most interesting food trucks. From gourmet hot dogs and traditional carts to celebrity chefs, attendees can sample numerous bites and drinks from nearly 100 local vendors.
July 12: Garagiste Festival Downtown LA
As the underground festival for artisanal wineries, the Garagiste Festival is where the little guys showcase their small batch wines. According to founder Doug McMillan, every Garagiste festival is held in a unique venue (LA's historic
Union Station
this time around) and provides an intimate place for guests to connect with lesser known wineries.
July 19-20: Sunland-Tujunga Watermelon Festival
Santa Anita Park
Ubiquitous at barbecues, parks and county fairs, watermelon certainly is LA's summer fruit. The Watermelon Festival at
Santa Anita Park
celebrates this refreshing fruit with an entire weekend of activities including a performance by Grammy winner Rose Royce, carving and eating contests and tons of free watermelon for everyone.
August 2: Big Bite Bacon Festival
Long Beach
The Queen Mary in Long Beach will host this union of bacon and beer with dishes from celebrity chefs and drafts from local craft breweries.
August 2-3: Long Beach Crawfish Festival
Lo
ng Beach
Louisiana isn't the only LA with traditional Cajun cooking and music. Featuring authentic cuisine, a congo line and Zydeco bands, the Crawfish Festival brings the spirit of New Orleans to Los Angeles.
August 10:
Taste of Ecuador Food Festival
Downtown LA
Steeped in Latin American history,
Olvera Street
hosts many South American festivals throughout the year including the Taste of Ecuador. This festival kicks off with a parade and is followed by a day of traditional cuisine, music and crafts so Angelenos can experience Ecuadorian culture first hand.
Aug 21-24: LA Food and Wine
Downtown LA
Food and Wine Magazine's annual Downtown LA festival spans the course of three days and seven locations, highlighting the works of master chefs and sommeliers. Food Network's Giada de Laurentiis and Iron Chef Masaharu Morimoto participated in last year's event with Italian- and Asian-themed street fairs.
Aug 29-Sept 1: LA Times' The Taste
Hollywood
Every Labor Day weekend, the Paramount Studios back lot hosts LA Times' The Taste festival. This five-event affair combines unique dishes and drinks from local restaurants and wineries with panels and cooking demos to make for an adventurous, engaging and educational weekend.
Sept 5-7: LA Greek Food and Wine Festival
Downtown LA
It's all Greek, all weekend long at the LA Greek Food and Wine Festival. Grecophiles can spend the days and nights feasting on souvlaki and spanakopita, sipping on ouzo lemonade, and even learning traditional Greek dances.
Facebook
Tweet
Linkedin
Pinterest
Google +
Interested in becoming a Contributor?