Wolvesmouth is an underground restaurant in Downtown Los Angeles, shrouded in secrecy. To go, you have to get invited, which involves somewhat of a scavenger hunt, and a password. It's been called the "Toughest Reservation in LA."
Wolvesmouth is an underground restaurant in
Downtown Los Angeles
, shrouded in secrecy. To go, you have to get invited, which involves somewhat of a scavenger hunt, and a password. It's been called the "Toughest Reservation in LA." I expected an ultra-cool scene. Drugs, celebrities, weird art, maybe some midgets flying from the ceiling, but I was disappointed. Despite the press, Wolvesmouth is not a group of LA-elites roaring the night away under strange candlelight. It's just a restaurant, albeit a very good one. Craig Thornton, the chef and founder of
Wolvesmouth
, fits the mold of a rock star in the
LA dining scene
. Rose from humble beginnings? Check (a trailer park in Arizona). Dates a hot actress/model? Check (Eva Card). Is he a badass? Well, the New Yorker described him thusly, "thirty and skinny…with a lean, carved face and the playful, semi-wild bearing of a stray animal that half-remembers life at the hearth…Lost boys flock to him…He once lost fifteen pounds driving across country because he couldn't bring himself to eat road food." He's like Chuck Norris of cooking.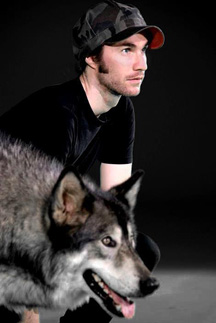 Thornton's "restaurant" is called Wolvesmouth, but it has no address and no phone number. There's only a listserve that announces upcoming dinners. You email back saying you're interested, along with anything else you want to include. They decide whether to invite you or not. After weeks of trying, I finally got an invite. From the press on Wolvesmouth, I knew a few things about it. First, it's supposed to be a sort of Parisian Salon, the guests are hand-picked for a diverse dining experience, a group of interesting strangers thrust together at a table. Second, it's a 10-course meal. Third, you pay what you want. I'd also heard enticing rumors, that the walls were adorned with strange taxidermy and celebrity guests drank and ate until the early hours of the morning with Craig. The day of the dinner, I received an address by email, not of the Wolvesmouth loft, but of a restaurant nearby. I was instructed to go to the address, call a phone number, give a password and wait for someone to retrieve me and bring me to the loft. The address they provided was in Downtown LA, in the Arts District, a hipster neighborhood with street art, abandoned factories, the whole nine. The email said it was BYOB, so I bought a case of Lagunitas, called the number, and waited. A large tattooed man appeared and led me to an apartment building, and up the stairs. After arriving, I realized Wolvesmouth is not the contemporary version of a Parisian Salon. Far from it. Thornton's loft is a brightly-lit expanse of exposed brick and granite countertops, no different from those inhabited by wealthy families in TriBeCa. There's no taxidermy on the walls, just banal, trying-to-be-cool art prints, including three large photographs of a Pug dressed up as different celebrities. Craig and the other chefs scrambled around in the household kitchen while guests took their seats. A handwritten menu was attached to the refrigerator with a magnet. The table was black lacquered wood and very long, seating 20 people—not the intimate hunk of oak I'd expected. I sat next to a couple pretty girls who were "in advertising." Across from me were two middle-aged finance-types who got sloshed on the expensive wine they brought and spent the evening hitting on the advertising girls. The conversation, table-wide, was somewhat forced and awkward. A solitary Asian dude across the table sat in silence throughout the entire three-hour meal, simply because no one asked him any questions. When the meal was over, at around 10:30pm, all 20 guests lingered for maybe 15 minutes, exchanged business cards, then filed out. Before each course, Craig would walk over to the table and describe the food, which was, unlike the atmosphere, delicious—spherical hunks of rabbit with chipotle croquettes and grapes, trout belly with Wasabi peas in a silvery sauce of squid ink and crème fraiche. His plates are perfect: beautiful to look at, interestingly themed and unbelievably tasty. The order of the courses is also unique. He starts with steak, ends with salad. I asked him if the reversal was intentional. "Yes. Normally, when you eat a steak, you've already eaten so much, and it's so heavy. Here, I hit you with it up front so you can enjoy it," he says. "The ten courses are designed to ebb and flow to make sure you never feel full." [caption id="" align="alignnone" width="608"]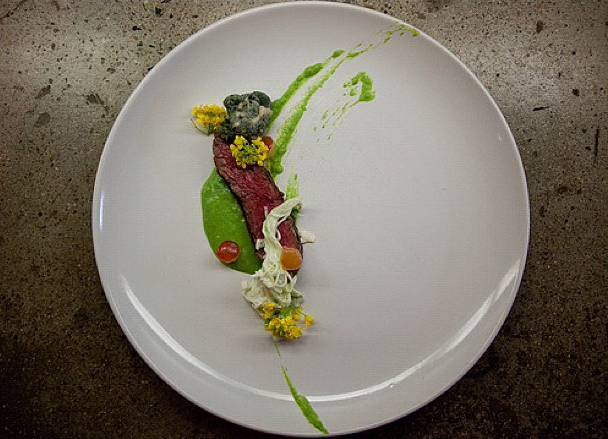 Beef and Broccoli. Photo courtesy of Wolvesmouth.[/caption] The guy is a genius. It's not him I blame for a disappointing evening, I blame the hype. In its essence, Wolvesmouth is a wonderful thing. A first class, fine-dining meal at a price anyone can afford. At the end of the meal, you get little red Chinese envelope to put your donation in. The only guideline is "what would you pay for a ten course meal at a nice restaurant?" Most people give around $90, but you can put in whatever you want, and the donations remain anonymous. But the media characterizes Wolvesmouth as something that it's not—"An Underground Supper Club" as The New Yorker called it. But that idea goes against the purpose of Wolvesmouth. Craig never intended to create some exclusive parlor scene where the cool kids get crazy and the average schlub is left out on the street. Quite the contrary. Wolvesmouth is about making incredible food for everyone. The only reason why it's the "toughest reservation in LA" is because Craig's food is so expensive and precisely made that he can't possibly feed us all, not because he's running and underground club. Craig is not a rock star, he's a chef.
Follow Isaac Simpson on Twitter at @Isaco525
Find more LA dining options with the LosAngeles.com restaurants directory.
[caption id="attachment_6729" align="alignnone" width="612"]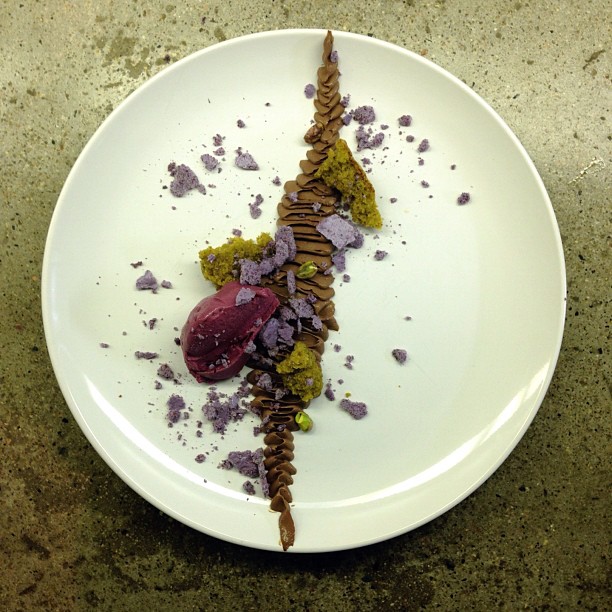 Chocolate tofu mousse with freeze dried berry lime tofu sherbet, pistachio genoise and berry meringue. Photo courtesy of Wolvesmouth.[/caption]
Facebook
Tweet
Linkedin
Pinterest
Google +
Interested in becoming a Contributor?